Legislative Conference is a three-day program dedicated to raising awareness about the public policy issues facing the beef industry and connecting cattlemen and women with policy makers in Washington, D.C. Each year, producers from across the country come together to:
Learn the issues.
Participate in briefings and information sessions from NCBA's issue experts. Topics include tax, trade, Farm Bill, nutrition, food safety, environment, federal lands, and more!
Meet with policy makers.
NCBA staff arrange customized meetings where members can meet with their elected officials in Congress and hear directly from agency staff.
Advocate for the industry.
Policy makers need to hear directly from the constituents they represent. Your direct, face-to-face advocacy in Washington is vital to the association and to the beef industry as a whole. NCBA staff regularly engage with policy makers, but the most influential meetings are with producers that travel to D.C., bringing local perspective to the beltway.
Why Should I attend?
If you're eager to learn more about the national policy decisions impacting your operation and ready to play your part in the political process, Legislative Conference is for you! We encourage every cattle producer to come to D.C., learn about the issues, and help advocate on Capitol Hill! No previous policy experience is required and NCBA staff will be on-hand to guide you every step of the way.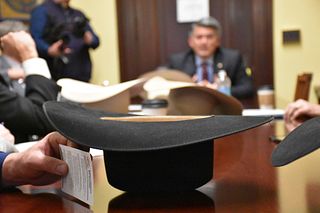 "By just showing up and participating you can make a difference in Washington D.C. People don't believe it, but it's true. It's important to be involved and it's really gratifying knowing you make an impact."
Kevin Kester, 2018 NCBA President
"PLC and NCBA help facilitate a great opportunity for rural producers to meet with the agency personnel as well as their elected officials about the issues affecting producers. This is especially important with the new administration and transition process to ensure that cattlemen's priorities and recommendations for regulatory reform are being heard."
Kacie Burns, Colorado Cattlemen's Association